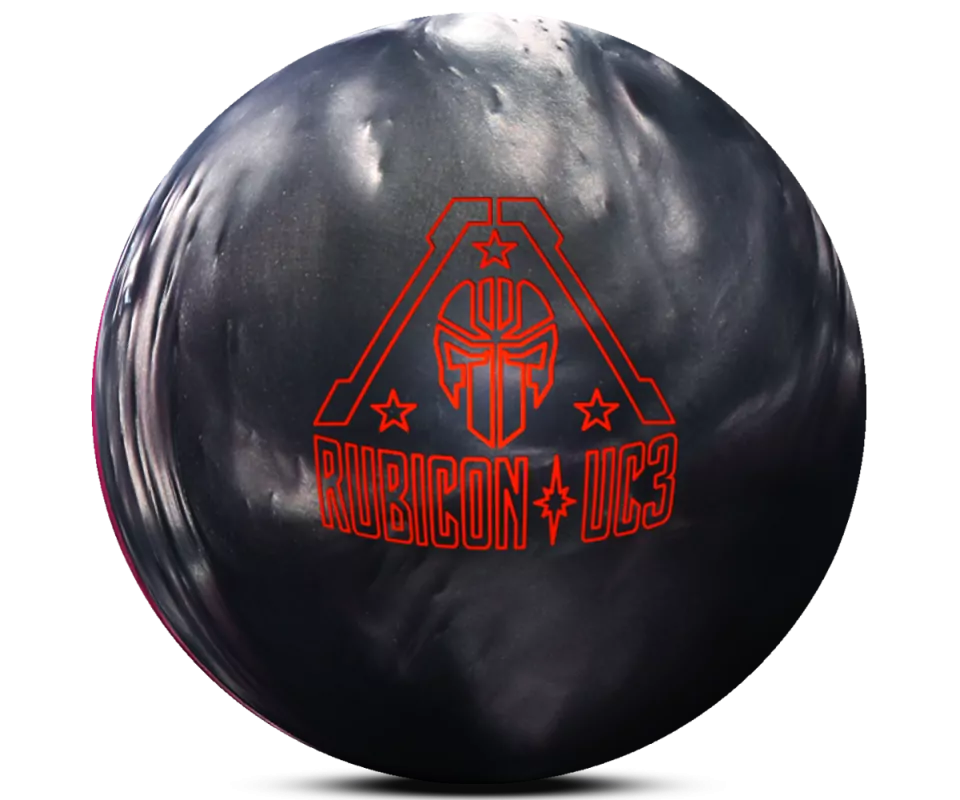 ROTO GRIP RUBICON UC3
BEHIND THE DESIGN...
From initial conception, we knew we needed to create a urethane option that was Different than all the other options on the market today that works for every level of player from novice to the most elite Touring Professionals.
For starters, in order to create something this universally versatile, we knew we needed to use Core dynamics that would generate enough flare and motion for everyone, so, we opted to start with the mildly asymmetric
Rondure
Core. From there, the R&D team went to work creating hands down the truest and most consistent urethane material
ROTO GRIP
has ever offered. After countless tests and formula tweaks, we determined the pearlized version was the ideal answer to combat those high friction patterns and lane surfaces found around the globe.
RONDURE CORE
A drastic departure from our traditional Symmetrical Core or symmetrical Weightblock designs in the HP3 Line, the asymmetrical Rondure Core was developed to increase overall ball motion throughout the lane without the aid of an added balance hole since those are now illegal in sanctioned competition. The starting point of this Core was creating a low RG Core design with a small intermediate split in order to emulate that symmetrical Core with an extra hole type motion a lot of bowlers have grown accustomed to. Dynamically speaking, this Core will rev up in the midline while providing more motion down lane than your traditional Asymmetrical design. The smaller intermediate differential provides continuation closer to a Symmetrical design. Thus, making this part the gap filler between asymmetrical and Symmetrical Core designs.
TOUR-ETHANE COVERSTOCK
Sometimes in the search to find the answer to modern day situations, you are forced to take a step or two backwards and investigate pre-existing alternative options that in the end, just may hold the answer to what you are in search of. Such is the case in the development and creation of our new Tour-ethane Coverstock material. This material was derived as the result of this new direction of thinking and formulating. Our R&D Team followed the chemistry path of pure
Urethane
from yesteryear in order to find the answer to the modern-day struggle in terms of excessive friction. Whether it is due to friction in the Oil pattern, friction in the lane surface, or a combination of both. To that we say – Fear Friction No More!
Engineered for Light Oil – Medium/Light Oil.
DETAILS
| Kategorie | Detail |
| --- | --- |
| Hersteller: | ROTO GRIP |
| Produktlinie: | Hook Potential 3 Line |
| Schale: | Tour-ethane Pearl Reaktiv |
| Gewichtsblock: | Rondure Urethane ASYMMETRICAL |
| Oberflächenstruktur: | 1000 GRIT PAD ABRALON® |
| Ballfarbe: | Platinum Pearl |
| Härtegrad: | 73-75 Rex D-Scale |
| Fächer Potential: | Light Oil – Medium/Light Oil |
| Verfügbare Gewichte: | 12 - 15 lbs. |
| Hersteller Art.Nr.: | BBMRBN |
RADIUS OF GYRATION / DIFFERENTIAL
| Lbs. | Radius of Gyration | Differential | PSA | Core |
| --- | --- | --- | --- | --- |
| 16 | 2.48 | 0.050 | 0.012 | |
| 15 | 2.49 | 0.052 | 0.011 | |
| 14 | 2.53 | 0.052 | 0.009 | |
| 13 | 2.57 | 0.032 | 0.010 | |
| 12 | 2.59 | 0.029 | 0.008 | |